My Blog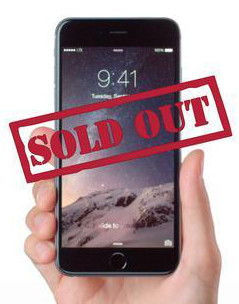 Every Fall, the tech world starts to get excited about the arrival of the new iPhones. Loyal Apple fans gather on one side of the ring and the Apple haters on the other side, ready to fight with gloves off. At this time, I often wonder if I am an iPhone-tard or just someone who is hooked into the Apple ecosystem, unable to get out. This year, I was particularly excited about the new lineup because there were rumors of the new screen sizes including a 5.5 inch phablet. I was reading all the rumor-mills, waiting for all the key dates and generally very excited about this new iPhone. I then started to wonder, have I become an iPhonetard? As I reflect back, I think I was unknowingly put through a series of tests that would help me determine if I was an iPhonetard or not.
Test Number 1 - The Keynote speech
I think the first test was the Keynote speech by Tim Cook and his team. It's a live streaming event where the new phones and other things are announced. It was right in the middle of my work day but I had to watch it. I had an early lunch, made sure all the various access methods were ready to go. Short of clapping at work when Tim Cook appeared on stage, I was fully hooked to this. I was tweeting, on Facebook, talking to my colleagues and generally very involved, even though the live cast was a bit of a disaster. Clearly, a sign of an iPhonetard.
iPhonetard 1 : Not iPhoneTard - 0
Test Number 2 - Pre-Order Date

The next big test was probably the night when I could pre-order the new iPhone. I had already been to the local stores to look at alternate phones of the same size (I actually touched a Samsung Note so that should count for something) and had made up my mind to get the 5.5 phablet. While I did not wake up at the time the pre-order site went online, I did set my alarm for 2 hours later. As it turns out, the Apple site crashed and did not come back online for 2-3 hours so I was able to wake up and order my phone with a 4 week delivery window. The fact that I woke up in the middle of the night was not a good sign in my quest to find out if I had become an iPhonetard.
iPhonetard 2 : Not iPhoneTard - 0
Test Number 3 - Trying my luck at an Apple Store

Black Friday sales and Apple product launches are not for  the faint-hearted and I have never ever stood in line for the launch of an Apple product, although I must confess I have been to a couple of Black Friday sales. With people camped out for days and knowing there was a shortage of the 6 Plus phones, I decided to pass on this. Thanks to Twitter, it was quite obvious that there was a possibility of a riot at some of these stores. Yeah for clawing back one point.
iPhonetard 2 : Not iPhoneTard - 1

Test Number 4 - The Big Day - Delivery

About 2 weeks after the launch of the new phones, I woke up to a message from Apple that my phone was finally ready for shipping and they had given me a UPS tracking number. From the time I got that number, I was checking my phone to see where the package was. It took them almost 4 days for it to even show up at some UPS distribution center in China. From there it made its way to South Korea, Hong Kong and then to Anchorage Alaska. On the morning of October 2nd, the UPS app said "On a truck, ready for delivery". The day had finally arrived when I would have my phablet. The entire day had gone by but no sign of the phone. With 3 minutes to spare in their 7:00 PM delivery window, my new phone finally arrived at 6:57 PM. I signed for it and turned around when my mother asks "Is that the new phone you were waiting for all day?". I immediately sensed something was going to come up, and it did. She goes "Tomorrow is Dussera, an auspicious day, lets open it after doing the pooja". If we all had a personal soundtrack playing around us, you would have heard the sound of a balloon deflating. I had waited so long, whats another day and so I had to go keep the box next to the wooden temple at home.
iPhonetard 2 : Not iPhoneTard - (Being an agyakaari son #winning)

While all the events leading up to the delivery of the phone had me strongly labeled as an iPhonetard, the one act of not opening the phone for another 12 hours gave me all the points for not being an iPhonetard. I finally have started to use the new phone and its thinner, faster, bigger but honestly I don't feel the level of excitement I felt going through the events leading up to the arrival of the phone. In about 2 years, I probably will be going through this again but hopefully there is no festival on the day my phone arrives. Also, my wife pointed out that the phone is so big that I look like I can listening to one of those transistor radios from the 70s and 80s .
 Perhaps, I am in denial about being an iPhonetard so would appreciate any feedback.