Bombay Scottish School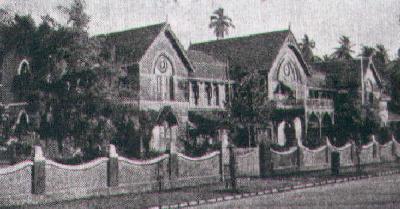 Bombay Scottish School, by night
Mapping history of one of city's finest schools
By Noel Keymer - Times of India, Feb 25, 2000
The year was 1847. A small group of Scottish missionaries decide to start a new school. The main objective of the school being to give Scottish orphan children an education so that they could take their rightful place in society as, `honourable and respected citizens'. The missionaries jump started their plan by acquiring a large plot at Mahim bay and started constructing the school, now officially dubbed, `The Bombay Scottish Orphanage'.
Bombay Scottish Orphanage started off humbly with just 12 students, but was still an imposing edifice. Built in the colonial style, it was a single storeyed structure constructed of black granite. The ground floor accommodated the school offices, a chapel cum hall, and two massive bathing rooms. Today, almost a century and a half later, the ancient pantry serves as a staff room for teachers, the bathing rooms and the toilet blocks have been converted into class rooms and computer rooms. And the old chapel is now a hall, called the McKay Hall, in loving memory of its first principal, Adam McKay.
But the hands of time do not change some things. Like the discipline and strict teaching standards, and more materialistically, the 105-year-old Grand Piano, which is still played at assembly everyday, or the 150-year-old banyan tree in the quadrangle, on which many a young boy has skinned his knees while climbing, or while swinging Tarzan-like, from its leafy vines.
Today, Scottish, as the school is lovingly called, boasts a spanking new three storey building, which houses numerous classrooms, a gym and a computer room, and thankfully, the old and the new architecture blend harmoniously together. Bombay Scottish - it's a name to reckon with. A landmark in every sense of the word. An epitome of good education and discipline, and considered by many to be one of the finest schools in the country. On February 18, Bombay Scottish saw students - past and present congregate to celebrate its 153rd founders day, and God willing may it grow in stature and may its present teachers and students take it to new undiscovered heights.
There are no articles in this category. If subcategories display on this page, they may have articles.