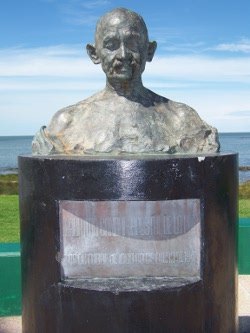 Growing up in India, Uruguay was a only country that we would come across during the World Cup and in World Cup related discussions. I never ever imagined that some day I would visit this little country in South America. For those who don't know where Uruguay is, its located on the Eastern coast of South America, just south of Brazil and north east of Argentina.  
I had a weekend to spend in Montevideo, the country's capital, and I decided to visit some of the historical landmarks in the city. Montevideo is located on the Rio Del La Plata and has a very long and beautiful coastline. As I was driving through the city, I noticed a stretch of the coast line was named "Rambla Mahatma Gandhi". For a moment, I was in disbelief as to why this place had an "MG Road". It was late in the day and I decided to return to MG Road on the next day, which was a Sunday morning.
I woke up, had my breakfast, wore my Mahatma Gandhi T-shirt (which I happened to take on the trip) and asked the cab driver to drop me off at Rambla Mahatma Gandhi. I decided to take a walk from one end of MG Road to the other which was about 1-2 kilometers long.
 

 

Football fans from India will recognize Uruguay because of their success in the last World Cup and their soccer stars Luis Suarez (at Liverpool) and Diego Forlan (Inter). For those who don't know where Uruguay is, its located on the Eastern coast of South America, just south of Brazil and east of Argentina.  

Very few Indians probably make the trip to this country as its too far away and probably not a major tourist attraction. Most Indians who prefer the more popular destinations like the US, Europe, Australia and the Far East. Fortunately for me, the company I work for has an office in Montevideo, the capital and I get to visit this less visited country. Over the next few days, I will share my experiences of life in Montevideo from the eyes of someone from India. Let me see what things Desi I can find here. If you would like to take this journey, follow me on Twitter.
I will begin with Day 0, getting to Montevideo. I took a flight from the US and in most cases, the best way to get directly into Montevideo was from Miami via American Airlines. The flights to Montevideo are usually red-eye flights and the travel time is about 9-10 hours. Getting to the gate, I realized that Uruguayans, like Indians, like to shop a lot abroad because the cost of luxury goods is almost twice the price in their home country. There were lots of duty-free shopping bags waiting to be handed to the passengers as they boarded their flights.
Once you get into the plane, you realize that most of the US airlines reserve their older aircrafts to fly to these countries. Much like how flights to India are, where the European legs have newer planes but the leg to India is nothing more than a flying bus. They probably played a movie and turned off the entertainment for the rest of the flight. Fortunately the plane was quite empty and being tired and and sleepy, was able to stretch my feet and get a good nap.
After about a 10 hour flight, we arrived at the Carrasco International airport. I had imagined a much bigger airport like the size of Bangalore or Hyderabad perhaps but it was really small and has only 4 gates. The airport is really modern and highly rated. It was very clean, with clearly marked signs etc. I made it through immigration smoothly. With only 4 gates, not too many flights can arrive at the same time. My suitcase was really light because I just had my clothes, but the locals all had a couple of really heavy bags. I found out on my flight that many Latin Americans find it cheaper to fly to Miami and shop for goods there and many make a trip there just for the purpose of shopping. Kind of like Dubai and Singapore for many Indians.
I came outside to find my cab driver waiting for me. In speaking with him, I realized that I am in for some fun not knowing any Spanish except Uno, Dos, Tres (which may be from a Ricky Martin song?) and No Habla Espanol (I dont know Spanish). The driver knew no English but of course he knew where to go so I made it safely to the hotel. My team speaks excellent English but its seems like the locals do not know the language at all. Guess, my hands will have to do the talking.
The ride to the hotel was quite short so I got to the see just the outskirts of the city. My first impressions of this part of the city was Mumbai meets Bangalore (but from 25 years ago). Being on the coast, the weather is really humid and you can feel it everywhere. This, along with the sea-breeze reminded me of Mumbai. The bungalows and greenery reminded me of Bangalore.
Feeling a bit tired, I decided to take a short nap before venturing out for lunch and other adventures. More to follow tomorrow, stay tuned. So far, no sign of anything Indian here but I will be looking.
 
I was recently in Chile on a business trip and had some free time on the weekend to take a trip to the coast side cities of Vina Del Mar and Valparaiso. During the trip, the tour guide told us about 2 cities that changed forever because of the innovation. The innovation of faster travel and the building of the Panama Canal. The two towns that were affected were Curacavi and Valparaiso, both less than 150 kms from the capital, Santiago.

Curacavi - Curacavi is a little town that lies between Santiago and Valparaiso. Before the advent of cars and trains, the travelers would travel on horse driven carts that would take between 2-3 days to cover the 100 kilometer distance. On the way, Curacavi was an important stop for the travelers to have food and an overnight stay. This city flourished because of these travelers who were going back and forth between Valparaiso and Santiago. With the advent of the car and trains, the travel times were reduced to hours and no one stopped at Curacavi  any more. This city was devastated by this and has never recovered from this. Today the valley of Curacavi is used for wine producing and has regained a bit but will probably never see the glory days again.
Valparaiso - Valparaiso is a port city about 100 kilometers south of Santiago. Before the Panama Canal was built, Valparaiso was an important port because all ships that had to go from the Pacific to the Atlantic would dock at Valparaiso. The ships typically had to go to Cape Horn to get around the continent of South America. The town flourished because of fact that there was no way to get around the continent. When you visit the city, you can see that the town was really well off in the past. The port has some old and impressive looking buildings and you can sense that this was a flourishing town. In 1914, the US opened up the Panama Canal which allowed most of the ships to go through Panama thereby cutting the number of ships coming to Valparaiso significantly. This city too was devastated by this. Today, Valparaiso is still an important port and many cruise lines use this city as a starting point for their South American cruises. However, its probably a shadow of its former self.

The Panama Canal, Suez Canal, advent of faster travel must have had devastating impacts on many cities and it was fascinating to think and see the impact. Fortunately, these are not ghost towns and continue to live. I wonder how future innovation may impact some major city in the world today. Will planes of tomorrow be able to fly longer distances thereby eliminating or reducing traffic to some of the major hubs. Will high speed rail have an impact on air travel? Something to think about.
The Grauman's Chinese Theater
Grauman's Chinese Theatre opened over 70 years ago, with the 1927 debut of the original silent version of "King of Kings," produced by Cecil B. DeMille. Since then, the Chinese Theatre has been the site of more gala Hollywood movie premieres than any other theatre. (In 1939, for instance, over 10,000 spectators showed up for the world premiere of "The Wizard of Oz.)
| | |
| --- | --- |
| | The forecourt of the Grauman's is famous for the hand and foot prints of Hollywood's greatest. The forecourt attracts more than two million visitors every year. Depending on what generation you grew up in, you will find a name familiar to you whether it be Marilyn Monroe, Frank Sinatra, Gregory Peck, Kirk Douglas, Michael Douglas or Bruce Willis. There are over 200 stars listed here (see bottom of page for complete list of Dec 2005) |
Dec 17th 2005

Hollywood, the place where dreams are made! We went to visit Hollywood this weekend for the first time since we moved to Los Angeles. Drove to Hollywood Blvd and parked at a parking lot close to the Roosevelt Hotel. I don't recommend parking at the parking lot next to the Chinese Theatre. Its way too busy and crowded. The first thing, we did was look at the stars on the Hollywood Walk of Fame.