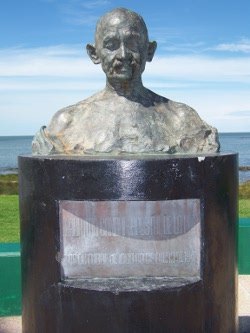 Growing up in India, Uruguay was a only country that we would come across during the World Cup and in World Cup related discussions. I never ever imagined that some day I would visit this little country in South America. For those who don't know where Uruguay is, its located on the Eastern coast of South America, just south of Brazil and north east of Argentina.  
I had a weekend to spend in Montevideo, the country's capital, and I decided to visit some of the historical landmarks in the city. Montevideo is located on the Rio Del La Plata and has a very long and beautiful coastline. As I was driving through the city, I noticed a stretch of the coast line was named "Rambla Mahatma Gandhi". For a moment, I was in disbelief as to why this place had an "MG Road". It was late in the day and I decided to return to MG Road on the next day, which was a Sunday morning.
I woke up, had my breakfast, wore my Mahatma Gandhi T-shirt (which I happened to take on the trip) and asked the cab driver to drop me off at Rambla Mahatma Gandhi. I decided to take a walk from one end of MG Road to the other which was about 1-2 kilometers long.
Rambla Mahatma Gandhi hugs the coast of the River Plate and is very picturesque. Parts of the Rambla have beaches with people sun-bathing, playing volleyball and of course, futbol. There is a beautiful paved road where folks are exercising, walking their dogs or sitting an sipping Mate (local tea). It was a beautiful autumn day with mild temperatures and I took my time to soak in the glory of walking on MG Road. I have walked on a few MG Roads in my life but somehow felt proud walking on this one.
Halfway down the Rambla, I found a beautiful statue of Mahatma Gandi and it was an amazing feeling. I stood there in amazement thinking that this man from my country had some impact on a country this far away from India. I took a few pictures and asked a gentleman to take a couple of pictures of me with the statue. I am not the patriotic kind but it was just a wonderful feeling that is hard to put into words (getting goose-pimples as I write this).
I returned to the hotel later that day but never figured out why the statue and road was named after Mahatma Gandhi. Parts of the coastline of Montevideo are named after countries like Peru and Argentina, leaders like Woodrow Wilson, Franklin Roosevelt and other famous people like Charles De Gaulle and Thomas Edison. Later that day, I also found a Nehru St on the map but did not get a chance to visit it. Perhaps, if life takes me down there, I will make a visit to see it.

Other Indian things I found in Montevideo, Maruti 800s, 1 restaurant selling samosas and a TCS office (and no I do not work for TCS)