Cricket Logos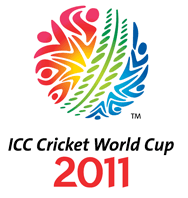 The 2011 ICC Cricket World Cup will be the tenth Cricket World Cup, and will be hosted by three South Asian Test cricket playing countries; India, Sri Lanka and Bangladesh. It will be Bangladesh's first time co-hosting a Cricket World Cup. The World Cup will use cricket's One Day International format, with fourteen national cricket teams scheduled to compete. The World Cup will take place during the months of February and March 2011, with the first match being played on 19 February 2011.

The event has a theme called "Celebration of Cricket" and the logo represents the theme. The logo is in the shape of a cricket ball with an upright green seam and both the sides represent a crowd that is a part of the action, with the hands up, cheering and shouting for their team.
The green seam indicates the one day ball and the green of the pitch and ground. The players and crowd surround this with motion and activity. The colours and figures on each side of the ball represent the event host nations coming together along with the world of cricket. The colour and movement creates a festival, players and fans coming together from around the world to celebrate cricket in the sub-continent.

The logo was unveiled on July 14th in Mumbai and was designed by Australian creative firm Witekite, one of 12 companies from all over the world that submitted concepts. The logo, in the shape of a cricket ball, is intended to reflect all that is best about cricket in the sub-continent - colour, movement and action.

I really love the logo as it represents the energy of the crowds in the sub-continents will bring to the event. The shapes in the logo also have a very Indian touch to it. 
Cricket Logos
More World Famous Logos
Logo Parodies


Source: http://en.wikipedia.org/wiki/2011_Cricket_World_Cup