Car Logos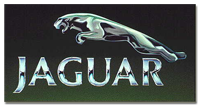 Jaguar Cars Limited is a British based luxury car manufacturer, originally with headquarters in Browns Lane, Coventry, England but now at Whitley, Coventry. It was founded as the Swallow Sidecar Company in 1922,by two motorcycle enthusiasts, William Lyons and William Walmsley, and changed its name to Jaguar in 1945. The company has been owned by Ford since 1989.
The Jaguar logo is a Jaguar leaping across the company name. The leaping Jaguart is possibly built to represent the speed, power and quickness of the car. The Jaguar emblem is also placed on the front of the car.
Source: http://en.wikipedia.org/wiki/Jaguar_(car)
More Car Logos
Car Logo Parodies
World Famous Logos

Click here for more information on the History, Design and Meaning of Car Logos The respective logos are registered trademarks. Use of the logo here does not imply endorsement of the organization by this site.